Get a taste of our
Nina One Bite pitas
We are proud to present: our new Nina One Bites! The possibilities are infinite: use them as a part of your appetizer or on a plate of tapas with multiple toppings or fillings. They are also ideal for (airline) catering.
The newest addition to our product range has a diameter of 4,5 cm and a weight of 8 grams per piece. Like all other products of Nina Bakery, the Nina One Bites are also available in both wheat and whole-wheat pita bread.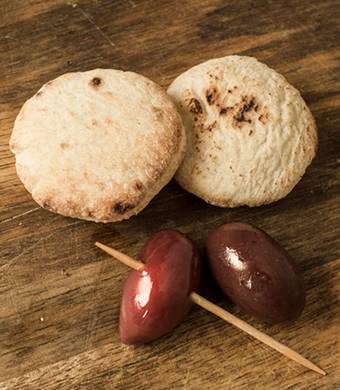 ---
Our latest innovation
We're proud to present the Nina Bakery Pita Breadsticks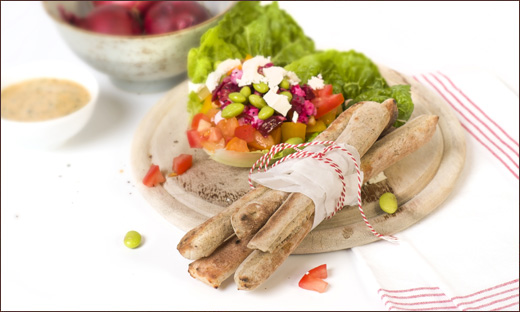 After thorough baking and tasting experiments we proudly present three different breadsticks, the regular wheat one, the natural whole wheat one and a very special flavoured one, the za'atar wheat breadstick. This special breadstick has the delicious, subtle yet 100% natural taste of our own blended za'atar baked into an oblong shape of 20 by 2,5 centimeters.
---
Authentic Stone oven baked Laffa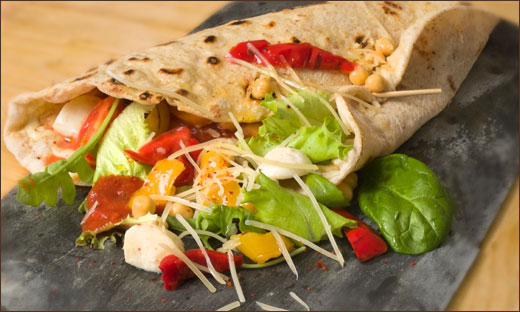 Laffa is a flatbread, according original Arabic recipe. Laffa means "folding, rolling". In the Middle East pleople call it sometimes "Iraki Pita". For Nina Bakery a logic step to add this special product to their wide range of Nina pita.
From a centuries-old tradition this laffa has been eaten with salads. Beside this option you can use laffa perfect for topping or filling and wrapping with meat, vegetables and even with sweet fillings. Top the laffa with houmous or falafel, roll and serve as a lovely delicacy from the Middle East. Have a look at our recipe proposals to find more ideas for preparing our Nina laffa.
---

Nina Bakery Europe is pleased to welcome you at the home of authentic pita & Arabic flat breads!
Fancy surprising your customers with a pita experience they haven't had before? With highest quality, entirely natural ingredients and exceptional taste and texture, Nina Bakery's unique pita is the ideal choice for foodservice and retail throughout Europe.
With a company history reaching back to 1936, Nina Bakery has been baking outstanding pita and winning loyal customers in Israel for over 70 years. In Europe, too, Nina Bakery's success is growing steadily. From our cold store in The Netherlands, we supply the entire European market. Our products range from small cocktail pita to XL pita in round and oval shape. All products are available as wheat or whole wheat bread.
For more information have a look at the product page!

top