Nina Bakery Europe is pleased to welcome you at the home of authentic pita & Arabic flat breads!
Fancy surprising your customers with a pita experience they haven't had before? With highest quality, entirely natural ingredients and exceptional taste and texture, Nina Bakery's unique pita is the ideal choice for foodservice and retail throughout Europe.
With a company history reaching back to 1936, Nina Bakery has been baking outstanding pita and winning loyal customers in Israel for over 70 years. In Europe, too, Nina Bakery's success is growing steadily. From our cold store in The Netherlands, we supply the entire European market. Our products range from round Nina one-bite up to Nina XL pita. Also breadsticks, oval and oblong shapes belong to our range. All products are available as wheat or whole wheat bread.
For more information have a look at the product page!


---
Nina Bakery is proud to present our newest additions: Nina pita Za'atar cocktail
This Nina pita cocktail with Za'atar herbs baked in the dough, fits perfectly into Levante kitchen which is focused on vegan and in line with the food culture of the Middle East. The Nina cocktail has a diameter of 6 cm and weighs 18 grams. The size makes this pita perfect for (airline) catering and gastronomy that focuses on sharing food and fine dining in lounge bars.
Because this Nina pita is shock frozen immediate after baking it has the perfect flexibility after defrosting and does not tear when you prepare, fill and eat it. The high enjoyment value you want to share with your customers!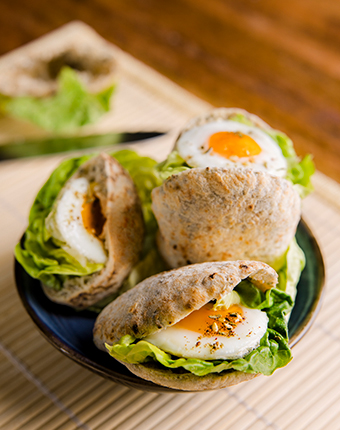 ---
Everything we know,
is everything you taste.
As a leading producer of artisanal pita bread, Nina Bakery has created a wide and diverse product range, which opens up a world of possibilities for foodservice and retail applications and recipes.
In our latest brochure you can discover all about Nina Bakery. From our history reaching back to 1936, to the preparation of our products and our product range!
Discover Nina Bakery!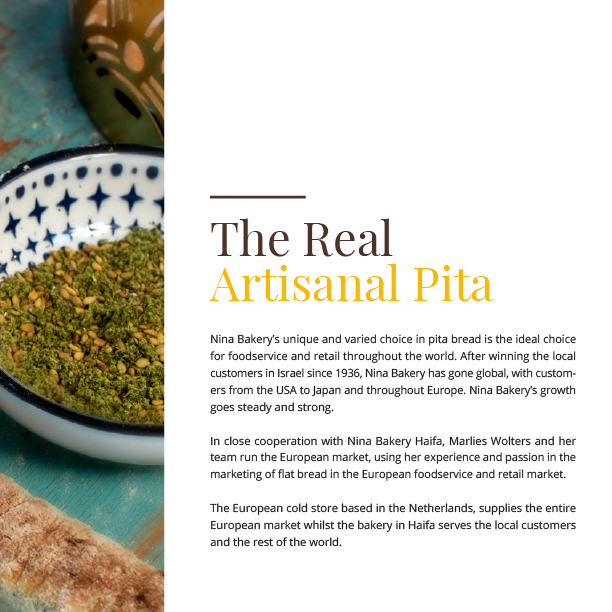 ---

top